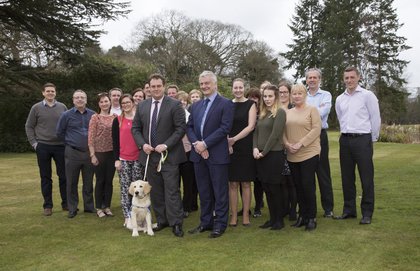 Recently, the Bewley Homes headquarters were in a frenzy whilst the team were visited by 'Bewley', the company's sponsored Guide Dogs for the Blind puppy. At just four months old, the very special four legged visitor is quickly developing the skills required to be placed with a blind or partially sighted person in the UK. The Guide Dogs for the Blind Association supports almost two million people who are living with sight loss and with this figure estimated to increase to four million by 20501, Bewley Homes is keen to support the charity.
Andrew Brooks, Managing Director of Bewley Homes (pictured with Bewley) comments; "We are absolutely thrilled to partner with such a meaningful charity that is so important for the blind and partially sighted community in the UK and we're delighted we could help with the sponsorship of Bewley. Meeting Bewley was a lovely treat for us all and we are confident he will grow to become a dedicated guide dog."
Just last year, a community 'fun day' raised almost £5,000 and inspired this additional sponsorship opportunity for the charity. Bewley Homes and The Guide Dogs for the Blind Association formed their relationship in 2014, following the purchase of the charity's training ground by Bewley Homes, which now plays host to the developer's Cavendish Park scheme. Situated in the superb location of Wokingham, it is well connected by road with the M4 just five miles from the development, which links you to the M25 and motorways to all parts of the country. The railway station is minutes away with a frequent rail service to London and also buses connecting you to neighbouring town Reading, Bracknell and Camberley. Cavendish Park has a selection of four and five bedroom homes still available, with prices starting from £650,000.