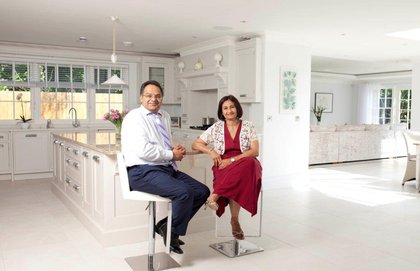 Following a year-long search, husband and wife, Bashir and Nafisa Parkar finally found their ideal home at Bewley Homes' luxury new development on Dukes Kiln Drive. Upsizing to their new and stunning six bedroom house in Gerrards Cross, the Parkar's were fully impressed by the quality and space of their second home, which was certainly worth the wait.
Having previously owned a smaller property a few miles away from the prestigious village of Gerrards Cross, the couple was keen to upgrade in design and space without compromising on location.
Mr. Parkar comments: "We wanted to stay in the local area. Gerrards Cross has a peaceful 'village' feel, and provides great connections to London and Heathrow."
"We also wanted a place that was extra special and stood out amongst the rest of the homes in the area. The six bedroom house, called Amblewood, ticked all the boxes for us: it's situated on a quiet road with little traffic and the homes are of exceptional quality which really appealed to us as soon as we set foot on the site."
"The kitchen is bespoke, and the windows have beautiful wooden frames. The entrance is also very impressive, and the house, once inside, has a large hallway with a striking stone staircase leading upstairs. A major benefit of Amblewood is its layout. The open plan kitchen and family living area felt quite unique and imaginative. The family living space is connected to the kitchen area but still feels separate – allowing for more flexibility. The new home also offers plentiful, private space for our eldest son who visits us and sometimes stays on the weekends."
Aside from the high specifications of Amblewood, buying new was also key for the couple.
Mr Parkar continues: "Buying a new build ensures quality. We wanted everything to be new for us rather than living with the previous owner's taste."
Amblewood is one of Bewley Homes' two detached six-bedroom homes situated on Dukes Kiln Drive in Gerrards Cross. Situated within a privately gated development, both homes (Amblewood and Woodlands) offer high-quality specifications with classical architecture and an extraordinary, internal space of 6,500 sq. ft. Each elegant home includes opulent interiors with a detached double garage, bespoke in-frame hand painted designer kitchen, landscaped gardens, electric entrance gates, underfloor heating to selected living areas and a master en-suite with two dressing areas. The homes are a short distance from Gerrards Cross with its array of shopping facilities and local station for regular trains into central London. Junctions 1 and 2 of the M40 and junction 16 of the M25 are also nearby for journeys further afield.
One home remains, named Woodlands, which is priced at £2,950,000. Viewings are strictly by appointment only; to find out more information please call our sales team on 0845 68 68 600 or email gerrardscross@bewley.co.uk.
Learn more about Woodlands, Gerrards Cross